There's so much you can do with ground turkey that it's a good idea to keep some on hand so you always know you're minutes away from a healthy meal. It can be used much like ground beef or ground chicken, but has the distinct taste of turkey. There are varying degrees of leanness that you can choose from, and some recipes will let you know which one they used. It's always a good idea to opt for leaner cuts while on Paleo, since your fat should come from healthier sources like oils and nuts.
Herbed Paleo Ground Turkey Burgers
Ground turkey is used in this low carb turkey recipe because it leaner than ground beef and tastes excellent when combined with fresh herbs. The burgers can be served with tomato and lettuce as a wrap, as pictured here, topped with avocado and onion. Or it can be eaten with the classic ketchup and mustard as well. Either way these herbed turkey burgers make a filling and tasty meal.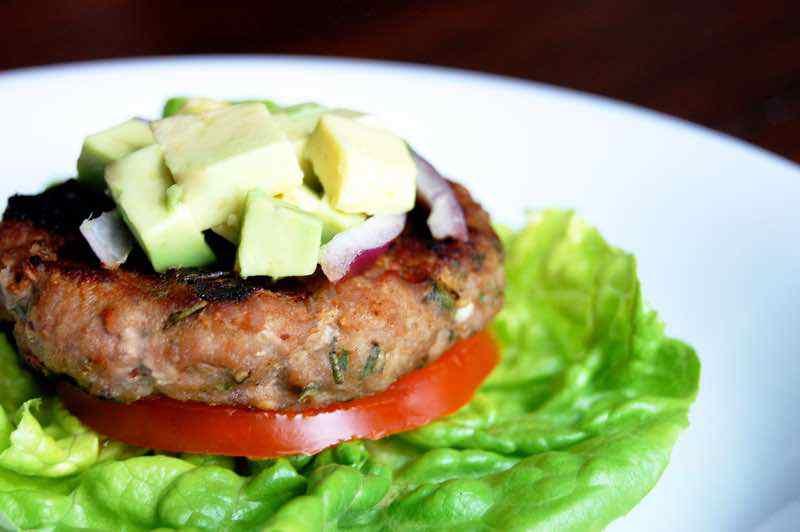 Ingredients
1 lb. ground turkey
1 tbsp extra virgin olive oil
1/4 red onion, finely diced
3 garlic cloves, minced
1/2 tsp salt
1/2 tsp pepper
2 tbsp fresh parsley, chopped
1 tbsp fresh rosemary, finely chopped
1/2 tbsp fresh thyme, chopped
Instructions
1. In a small pan, heat the olive oil over medium heat and sauté the chopped onion for 3-4 minutes. Add in the garlic and cook for 1-2 minutes more. Remove from heat and place in a large bowl.
2. After the onions have slightly cooled, and the remaining ingredients into the bowl and stir to combine. Use your hands to form four burger patties.
3. Heat the grill to medium-high heat and cook the burgers for 5-6 minutes on each side until cooked through. Serve with condiments of choice.
Best Low Carb Paleo Ground Turkey Recipes of 2022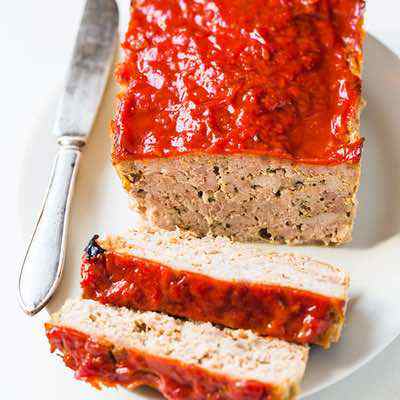 Quick and Easy Low Carb Turkey Meatloaf (274 cal/serving)
Stovetop Paleo Ground Turkey Chili (297 cal/serving)
Classic Paleo Turkey Burgers (265 cal/serving)
Paleo Ground Turkey Hash with Squash and Peppers (Our Salty Kitchen)
Paleo Ground Turkey Shepherd's Pie (Evolving Table)
Easy Ground Turkey Curry (Evolving Table)
Whole30 Turkey Taco Salad (Whitney Bond)
Paleo Mexican Turkey Burgers (Tastes Lovely)
Mom's Ground Turkey and Peppers (Simply Recipes)
Paleo Ground Turkey Taco Zoodles (Perchance to Cook)
Paleo Veggie Ranch Turkey Meatloaf (Paleo Running Momma)
Strawberry Balsamic Ground Turkey Skillet (Food Faith Fitness)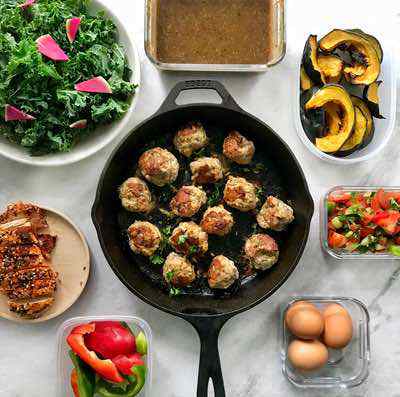 Cast Iton Skillet Paleo Turkey Meatballs (I Hart Nutrition)
Paleo Turkey Pesto Meatballs
Rebecca is always tinkering around in her Paleo kitchen and has come up with some great-tasting turkey meatballs, with the flavor of pesto in each one. The main ingredient is of course ground turkey, but mixed up in it is a Paleo pesto, almond flour, egg whites, and salt and pepper. They're baked, so they're super easy to make and you don't have to babysit them. Serve over a bed of spaghetti squash and you've got quite the Paleo meal.
Zucchini Stuffed Meatloaf
This meatloaf contains a hidden surprise in the form of zucchini running right through the middle of it. She's using a very lean ground turkey at 94% lean, which means this is one meatloaf that won't be swimming in its own grease. The great part about having zucchini added to it is that it makes it a complete Paleo meal so you don't necessarily have to serve up a side dish with it. The zucchini also acts to keep the meatloaf from drying out, and gets cooked to perfection while tucked inside the loaf. Overall, a healthier alternative to traditional meatloaf, and a tasty one at that.
Summer Burgers
These burgers are perfect for the summer, incorporating both ground chicken and ground turkey to pull of the right flavor. This shows that you don't have to use just one type of ground meat, and that putting the two together can make quite the concoction. They're serving these burgers up without a bun, a convenient way to sidestep any concerns with grains or wheat. The use of herbs and spices in these burgers is tuned into the summertime, with fresh cilantro being the most flavorful of them and adding a lot to the flavor profile.
Fowl Balls
Get a different taste from your meatballs when you use ground turkey and not beef. She's really good at coming up with game day foods, even releasing a book called Pigskin Paleo featuring snacks that are perfectly paired with sports watching. She recommends dipping these in a avocado-spinach dipping sauce, and dipping always makes foods taste better and adds novelty to the dish. It's always nice to serve up an appetizer that you can enjoy alongside your non-Paleo friends, and they don't even have to know that it's a Paleo recipe. Get in game time mode with these awesome meatballs.
Aubergine Turkey Chili Sweet Potato
One way to top a sweet potato is with this impressive turkey and eggplant chili. The reason this works so well is that while there's plenty of ground turkey, there's also plenty of vegetables used in the chili, and it's served on top of a baked sweet potato, so you're getting antioxidants and fiber from that, which helps to make this a perfectly proportioned Paleo meal on a plate. You won't soon forget this dish, as it incorporates so many flavors, and is relatively easy to make. You could even use the slow cooker to make the chili if you were so inclined.
Sweet Potato Spinach Bacon Burgers
There's a lot going on with these burgers, made with sweet potatoes, spinach, and bacon. And of course there's ground turkey in there or it wouldn't have made our list. The savory flavor of the bacon will permeate through the entire burger, and it's nice knowing that you've got two superfoods backing you up, spinach and sweet potato. Spinach contains iron and other minerals, as well as phytonutrients and fiber. Sweet potatoes have bera Cartone in them, as well as additional fiber. That makes these burgers more nutrient dense and fiber-filled than your average burger, and you've got your vegetables built right in.
Caveman Casserole
This is a casserole you can feel good about serving to your family or guests. It is basically a Shepherd's Pie but with sweet potatoes used instead of regular potatoes. The base is mostly made with ground turkey, and somehow they've managed to sneak an entire banana into this dish, mashing them in with the sweet potatoes to give them additional sweetness, fiber, and a dose of potassium. You'll be surprised at how often Paleo chefs sneak wholesome foods into otherwise unsuspecting recipes, adding to the overall nutrition.
Mexican Meatza
If you love the taste of Mexican you'll want to become adept at making Paleo-friendly Mexican dishes, and this recipe is a good place to start. They've basically made a pizza using ground turkey for the crust, and topped it off with Mexican-inspired ingredients. Serving it up on a bed of greens is a great way to get your vegetable serving along with your meat. They've taken the liberty of topping it off with an egg, an interesting topping that adds more protein to the mix. The dollop of guac on top of everything is a nice bonus.
Turkey Breakfast Pattie
Start your morning off right with this turkey breakfast pattie that features both ground turkey and an egg, presented in a way that will make you feel you're having breakfast in a fancy restaurant. The great part about this recipe is its simplicity, and even though it looks fancy it's tremendously easy to make, and you'll be eating it in no time. You can use your choice of veggies, and here they suggest asparagus or spinach if you can't find samphire. When you are short on time but still want a protein-packed way to start your day, this is the patty to turn to.
Harvest Sausage Stuffed Squash
If you're going to stuff a squash, you may as well stuff it with the tastiest things you can think of. Here they've gone with a delicious sausage made with ground turkey and an assortment of seasonings selected just for their ability to turn ordinary ground turkey into a something that tastes like sausage. Sage is the primary ingredient that will make this sausage-like, and because you aren't using actual sausage you won't have to worry if there's nitrates in it, or extra sodium. This makes it a healthier alternative to buying turkey sausage, but with all the flavor you could ever want.